= = = = = = = = = = = = = =


= = = = = = = = = = = = = =
visit:

(our sister site)

... to one man's walk with God.

Every so often, I compile my cartoons into a newsletter I call: Etoonin'. It contains cartoons, photographs and whatever else rambles through my head in a Graphic Designy Goulosh. You can read past Etoonin' Issues below. All of life's joys and sorrows contained in one place.
Please subscribe and share this.
I am also selling an 82 page spiral bound book of my cartoons for $40 each. These are proudly printed in the U.S.A. Once you have the book in your hands, you can do anything you want with it besides xerox it. Give it to a friend, a family member, a Church leader, or use it as a coloring book (stay within the lines). Each book you buy helps me to live a life without walls.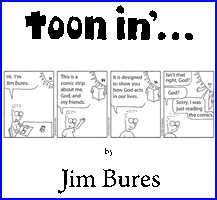 =================================

Browse the news
Etoonin' Library


past Etoonin's in reverse chronilogical order







2014


Jesus Christ: Lord and Savior. . Etoonin' 129 - Dec. 21st, 2014
Walking Forward, SCT 9 . . . . . Etoonin' 128 - Apr. 20th, 2014



2013


Real Cartoons, Real JB . . . . . Etoonin' 127 - Oct.  6th, 2013
Celebrating Paperclips . . . . . Etoonin' 126 - Aug. 25th, 2013
Self-Titled. . . . . . . . . . . Etoonin' 125 - Apr. 28th, 2013
Roll With It . . . . . . . . . . Etoonin' 124 - Apr. 14th, 2013




2012


The Anxiety Issue. . . . . . . . Etoonin' 123 - Sept  9th, 2012
A Continuation of Christmas. . . Etoonin' 122 - Jan. 15th, 2012
2011 Annual Report . . . . . . . Etoonin' 121 - Jan.  1st, 2012




2011


Etoonin' Christmas Special . . . Etoonin' 120 - Dec. 25th, 2011
Crowder Horsetooth Days. . . . . Etoonin' 119 - Oct. 23rd, 2011
A Made Man . . . . . . . . . . . Etoonin' 118 - Aug. 28th, 2011
Eyes Forward . . . . . . . . . . Etoonin' 117 - July 10th, 2011
Becoming All for the Lord Today. Etoonin' 116 - July  7th, 2011
Graduation!!!. . . . . . . . . . Etoonin' 115 - May  10th, 2011
2010 Annual Report . . . . . . . Etoonin' 114 - Jan.  9th, 2011
Southern Circuit Tour #7 . . . . Etoonin' 113 - Jan.  9th, 2011




2010


Fall Portfolio . . . . . . . . . Etoonin' 112 - Dec. 25th, 2010
Denver, San Diego & Dallas . . . Etoonin' 111 - Sept  5th, 2010
Alaska & Our Heavenly Father . . Etoonin' 110 - July  4th, 2010
Spring Portfolio . . . . . . . . Etoonin' 109 - May  16th, 2010
The Great Prayer . . . . . . . . Etoonin' 108 - Mar. 14th, 2010
TeXas. . . . . . . . . . . . . . Etoonin' 107 - Feb. 21th, 2010
2009 Annual Report . . . . . . . Etoonin' 106 - Jan. 10th, 2010






Please note: some of these issues contain artwork found on Google. I apologize to those parties I have so egregiously offended and if it suits you, I wouldn't mind if you ask me to remove them rather than suing my broke behind. Thanks. Google is also not trademark or copyright by me either. But most of the other stuff is.

Top

All artwork copyright 1996-2014 Jim Bures. All rights reserved.

For Christian webhosting: