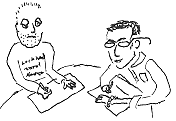 start here
Dan and Jim was the precursor to Toon in'. It began as a co-authored cartoon series started by me and my housemate Dan. Dan and I, old college buddies, had rented an apartment together ready to make our mark in life, or at least have a good time. One day Dan gave me a book to read entitled Understanding Comics, by Scott McCloud, and soon after the Dan and Jim strip was born. We took turns drawing comics for each other just for the entertainment value it provided.
As time when on Dan gradually dropped out and stopped drawing. Truth be told, I probably forced him out, as I was aggressive about the strip. Also, my cartooning habits revolved around drug use, and mania was a problem for me at the time. Aside from that, I was just generally a jerk, the biggest of problems, something that effected Dan the most.
However, the concept of Dan and Jim developed and continued despite all this, and laid an important framework. Dan helped start a cartoon that was about "us", our adventures and exploits. Even though he stopped drawing, I attempted to continue that by drawing about what happened in our apartment. The "Dan and Jim" name sometimes became replaced by whoever the cartoon should happen to feature that day. In that way the cartoon strip evolved to be more about those people around me, and the events of my life. And that is how the cartoon eventually came to be called "Toon in" as I invited people to toon in' to 47 Rice St. #2 and life at our apartment.

Top
All artwork copyright 1996 - 2019 Jim Bures. All rights reserved.

For Christian webhosting: